Fang Grillz or Vampire Grillz
Fang grillz, also known as Vampire Grillz are like normal teeth grill, but with fangs located where a person's canine teeth are, like a vampire or wolf. While all vampire grills are Grillz fangs, not all fang grillz teeth are vampire teeth grills. We sell werewolf and shark fang grillz as shown below, that look completely different from a vampire grillz.
Read More
What Types Of Vampire Teeth Grillz Do You Sell?
We have a variety of fang grills. We sort our fang grill, by shape (open face, werewolf, shark, or canine), position (single, double, top, bottom, and full set),  material or color (gold, rose gold, silver, white gold, and diamond) and design (diamond dust, diamond cuts, princess cut etc)
This section will focus on the various different shapes of fang grillz that are different from the standard  vampire grillz fangs
The Open Face Fang Grillz is like a standard open face grill, but has pointed fangs were the canines are.  One can get single open face fang caps, double, bottom, top or a full set of open face vampire grillz.  They are available premade, or can be custom made. The image below is that of a Rose Gold Premade Open Face Fang Grillz
Shark Fang Grillz
The Shark Fang Grillz is special, because all the teeth are pointed fangs, to give the impression that your mouth looks like that of the Shark from the movie Jaws.
Our shark grillz come in a variety of styles and colors, we have gold, blue/silver, plain and iced-out shark grillz as well.
Werewolf Fang Grillz
This what we call our Werewolf Fang Grillz, or more precisely a werewolf that has a lot of style.
These grills will definitely wow people particularly if you decide to go for Halloween as a werewolf.
Canine Fang Grillz
This is another unique fang grillz in our collection, the adjacent cap makes the fang part of the grills more menacing.
The Canine Fang Grillz comes in silver and gold and is sold as a pair or double pair so it covers all canines.
How Much Do Vampire Fang Grillz Cost?
While the price can vary a lot depending on how many canines you order, the material used, and the design, we will restrict our estimates to single canines, We won't cover full set Grillz with fang/vampire fangs included as a part of the Grillz, because it can get complicated and since the bulk of our fang grillz order are canine pairs
The table provides the cost of pair of fang grillz, both for plated and real silver / gold (including shipping)
The cost of fang grillz that have been added on a full set of Grillz, will be an additional US$10 per tooth. So if you buy a 14K Gol Grillz for US$500, if you want all the canines to be point it will be an additional US$40.

Premade Fang Grillz
Premade Fang Grillz come already made. and are shipped out to you once you order them. Once you get them you fit them to your teeth using molding bars.
They are made of electroplated gold or white gold if you choose silver. They are usually 14 or 18K yellow/white gold. Depending on the quality of the grillz, it can be plated anywhere from 1-5 times, with more plating being better quality and more expensive.
We have a wide selection of premade fang grillz.
Custom Fang Grillz
Our custom grillz fangs are made to order, and we custom make your custom vampire teeth by sending you a mold kit to get a mold of your teeth.  The mold kit comes with several molding trays and a package of two sets of molding putty, the catalyst, and base.  You mix the catalyst and the base and form a long. You push the putty into the mold, and bite into the putt, wait 3 minutes, and release.  Now, you get a mold of your teeth. and send it to us so we can make your customized grillz with fangs. 
Another difference between Premade and custom vampire grillz, is the materials used to make the custom grillz. Custom grillz are usually made of real gold or silver, even though in the case of silver they can be plated over with real gold.  Here is an example of a custom gold fang grillz, made with real 18K gold.
While the material used can make fang grillz expensive, its the crafting process that is a large part of the cost.  To make two individual silver fangs is more time-consuming and expensive than making a single 4 teeth bottom silver grillz, even though you use only half as much material.    
What are the Most Popular Fang Grillz?
If you want a unique pair of upper fangs, full set, fang tooth, or bottom row fang to show off your blood-sucking cravings or simply be the coolest person at the next Halloween party, we are sure we have the fangs for you - We at Rhino Grillz stock a wide range of fangs including in gold, silver, encrusted with CZ stones or in rose gold. Our fang caps and vampire fang grillz selection is big. You name the grill, we have them! 
However, to guide you we will list our 5 most popular fang grillz in the past year?
1. Single Vampire Fang Grillz
Our most popular fang grillz caps are the single vampire teeth grillz, or more precisely two pairs of single silver fangs, gold fangs, or rose gold vampire grillz.
What Are the Different Materials Used For Vampire Grillz?
We use a variety of materials to make our fang grillz.  Here are some of the materials we use.
Our Gold Teeth Fangs basically consist of two types of material.
The first is electroplated gold grillz, where the gold is plated over a less expensive meltal such as brass. This gold can be 14K or 18K. This is primarily used for our premade grillz.
The second is real gold vampire teeth, where in most cases the whole grillz is made of real gold.  In Rhinogrillz we use 10K, 14K and 18K. This is used for our custom grillz.
Silver is the most popular color/metal for our Silver Grillz With Fangs outselling gold 2 to 1.  This applies to both our premade and custom Grillz.  We suspect the reason why silver is the favorite color is most likely it fits with the whole image of vampires.
Our silver vampire fangs are made up of either silver / white gold plated over brass for our premade silver grillz. For custom silver Grillz, they can be made of .925 Sterling Silver or White Gold.  What is popular with .925 Sterling Grillz, is to have them plated over with yellow, rose gold, or white gold so they last longer and don't tarnish.
While, Rose Gold isn't as popular as silver or gold, there are still people who purchase this color. Rose Gold Vampire Grillz is an elegant, romantic, and understated choice. its for people who want to their grillz, but don't want to announce to the whole world they are wearing grillz.
White Gold Fangs
White Gold is a substitute for people who want silver Grillz, but want something that is low maintenance and doesn't tarnish easily.  White gold is made of an ally that has pure gold and more durable materials. Popular metals to make white gold include nickel, zinc, and copper.  Our custom grillz use white gold as both a base metal and coasting.  For our more expensive premade grillz, its also used as electro-plated coating such as our premade Werewolf Fang Grillz below
Diamond Fang Grillz
Rhinogrillz has both premade and custom fang grillz with diamonds, with prices ranging from US$20 to thousands of dollars for gold diamond vampire grillz with vvs1 real diamonds. Here is an example of premade diamond vampire grillz.
Different Grillz Designs
Below are some of the different designs:
Diamond Dust Grillz are made by applying a mechanized hammer that makes small imprints on the gold / silver grillz, which creates the impression that diamond dust was sprinkled on the grillz.
Diamond Cut Fang grillz are made by applying diagonal into the grillz, to make a crossing pattern.   Below is an example of a .925 Sterling with diamond cuts. 
Female Fang Grillz
Like Open Face Grillz, Fang Grillz is popular with women and girls.  usually, grillz buyers usually are male, with 2 males for every female buyer. However, with vampire fang grillz it is evenly split between men and women.
Beyonce and Her Fang Grillz
As far as we know, the only celebrity seen wearing vampire Grillz is Beyonce.  She took a photo of herself sporting a bejeweled white gold grillz with fangs in 2013.  The grills had a connecting bridge.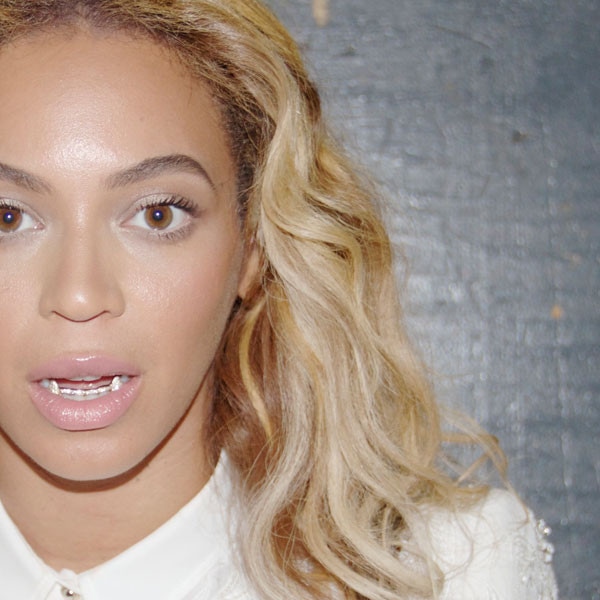 The second time she was sporting the same Grillz was at the Black American Music Association and Georgia Entertainment Caucus Inaugural Induction Ceremony for Black Music And Entertainment Walk Of Fame on June 17, 2021 in Atlanta, Georgia